New titles for Summer 2011

Greetings, all:
Welcome back to the Sweet Briar Summer Book Club and our community of readers and writers.
I've chosen three novels for this summer's reading: 31 Hours by Masha Hamilton (who will be on campus in November; more on that in a minute); Bel Canto by Ann Patchett; and Small Island by Andrea Levy.
All three novels are concerned with issues of racial, ethnic, political, or religious intolerance. These issues weigh upon us all, of course, but they are being considered in a deliberate way on campus this fall, both in the College's Honors program, where the theme of the seminars is "Testing Tolerance," and in SBC y:1, the first-year common reading experience; this year marks the tenth anniversary of 9/11, and the y:1 program will be built around the book Beyond Fundamentalism: Confronting Religious Extremism in the Age of Globalization by Reza Aslan, as well as several complementary texts. Using the different perspectives of literature, science, philosophy, and history, students in the y:1 program will consider how the world has changed since 9/11 and what those changes mean for our experience today in a global community.
For those who think that summer reading ought to have about it a whiff of sun and sand, of romance and comedy, I'd like to add that all three novels on the Summer Book Club reading list are also love stories.
JUNE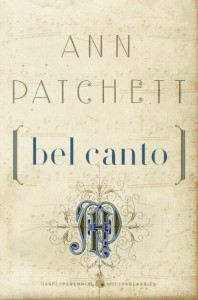 I propose that we begin in June with Patchett's Bel Canto, which won both the PEN/Faulkner Award and the Orange Prize in 2002 and was a finalist for the National Book Critics Circle Award.  Named the Book Sense Book of the Year, the novel sold over a million copies in the United States and has been translated into thirty languages.
Here's a brief review from The New Yorker: "An impoverished South American country hosts a birthday extravaganza for a Japanese industrialist in the hope of securing new foreign investment. The lure? An internationally renowned lyric soprano. Indeed, when Roxane Coss sings, even the ragtag terrorists who are about to flood through the air-conditioning vents and take the guests hostage hold their breath, transported by the beauty of her voice. Patchett's tragicomic novel—a fantasia of guns and Puccini and Red Cross negotiations—invokes the glorious, unreliable promises of art, politics, and love. Against this grand backdrop, the smallest gestures bloom with meaning: a pretty governess stitching up the cheek of her employer with her sewing kit; a young terrorist discovering the tyranny of wearing a watch; an exasperated French diplomat risking his life to peel an eggplant with a proper knife."
JULY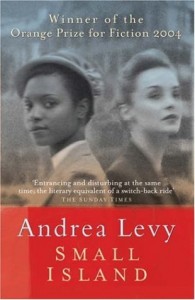 In July, we'll move on to Levy's novel Small Island, Winner of the Orange Prize for Fiction 2004, the 2004  Whitbread Novel and Book of the Year, the 2005 Commonwealth Writer's Prize Best Book, and the 2005 Orange Prize "Best of the Best" award. A reviewer for Australia's The Age wrote: "Small Island is a triumph of poise, organisation and deep, deep character – the sort of work that can only be achieved by an experienced novelist, comfortable with her powers and confident in her technique. Ugliness and struggle, humour and forbearance, this is the myriad-voiced sound of a nation in transformation."
Here's some background information on Andrea Levy from her website:
"In 1948 Andrea Levy's father sailed from Jamaica to England on theEmpire Windrush ship and her mother joined him soon after. Andrea was born in London in 1956, growing up black in what was still a very white England. This experience has given her an complex perspective on the country of her birth.
Andrea Levy did not begin writing until she was in her mid-thirties. At that time there was little written about the black British experience in Britian. After attending writing workshops Levy began to write the novels that she, as a young woman, had always wanted to read – entertaining novels that reflect the experiences of black Britons, that look closely and perceptively at Britain and its changing population and at the intimacies that bind British history with that of the Caribbean. In her first three novels she explored – from different perspectives – the problems faced by black British-born children of Jamaican emigrants. In her first novel, the semi-autobiographical Every Light in the House Burnin' (1994), the story is of a Jamaican family living in London in the 1960s. Never Far from Nowhere(1996), her second, is set during the 1970s and tells the story of two very different sisters living on a London council estate. In Fruit of the Lemon(1999), Faith Jackson, a young black woman, visits Jamaica after suffering a nervous breakdown and discovers a previously unknown personal history.
In her fourth novel Small Island Levy examines the experiences of those of her father's generation who returned to Britain after being in the RAF during the Second World War. But more than just the story of the Jamaicans who came looking for a new life in the Mother Country, she explores the adjustments and problems faced by the English people whom those Jamaicans came to live amongst. Immigration changes everyone's lives and in Small Island Levy examines not only the conflicts of two cultures thrown together after a terrible war, but also the kindness and strength people can show to each other. The Second World War was a great catalyst that has led to the multi-cultural society Britain has become. For Andrea Levy acknowledging the role played by all sides in this change is an important part of understanding the process so we can go on to create a better future together."
"Small Island is a triumph of poise, organisation and deep, deep character – the sort of work that can only be achieved by an experienced novelist, comfortable with her powers and confident in her technique. Ugliness and struggle, humour and forbearance, this is the myriad-voiced sound of a nation in transformation."
The Age, Australia
The TV adaptation of Small Island has won a Broadcast Award for the Best Single TV Drama. It has also won an International Emmy in the US for best TV movie/mini series 2010, and was nominated for several BAFTAs, winning for best music. If you haven't seen the TV adaptation it isnow available on DVD. It's a wonderful piece of TV drama
Small Island was the subject of a recent Guardian Book Club feature. Here is a link to a podcast of Andrea talking about the book with John Mullan and answering questions from the audience.
AUGUST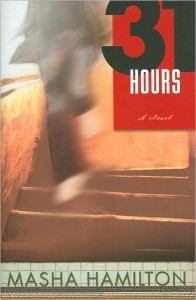 Finally, in August, we'll turn to Masha Hamilton's novel 31 Hours. Here's a link to an essay by Hamilton about the chain of events that led to the novel.
Journalist, novelist, and humanitarian activist Masha Hamilton is a compelling role model for young women in today's global world. Founder of two non-profit organizations and author of several award-winning novels and works of journalism, Hamilton was named the 2010 winner of the Women's National Book Association Award, which has been given continuously since 1940 to honor a woman writer who has done meritorious work in the world of books beyond the duties or responsibilities of her profession.
A former foreign correspondent, Hamilton worked for the Associated Press in the Middle East and for the Los Angeles Times and NBC/Mutual Radio, reporting from the Soviet Union during its final years. She has written several award winning novels, including The Camel Bookmobile, about a traveling library in Africa that brings precious books to villagers, and 31 Hours, chosen by The Washington Post as one of the best novels of 2009.
In 2007, Hamilton launched the nonprofit organization The Camel Book Drive, which supplies books through a camel-borne lending library to remote rural villages in northeastern Kenya. In 2009, Hamilton established the Afghan Women's Writing Project to foster creative and intellectual exchange between Afghan women writers and American women authors and teachers. The website publishes the work of Afghan writers under the mentorship of authors, poets, essayists, memoirists, and journalists.
Hamilton's career is an inspiring example of a woman who is a courageous traveler and adventurer, a thoughtful observer and eloquent chronicler of human experience, and an enterprising advocate for human rights, especially the rights of women. Her work — especially the Afghan Women's Writing Project — is also an example of the important links that exist today between technology, literature, journalism, politics, nonprofit development, and humanitarian achievement.