Masha Hamilton's 31 Hours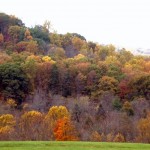 Summer has officially ended — on September 23, in fact — and now, a few days into October, we feel fall truly approach at Sweet Briar. When we worked outside at Sanctuary Cottage yesterday afternoon doing some fall planting, putting in a few redbuds and dogwoods and azaleas before cold weather sets in and the ground freezes, the clouds were pouring in from over the mountains, darkly gray and green underneath — dramatic as ocean waves — and the wind moved the long, red tipped grasses in the fields, as if a giant's invisible hand brushed their surface. It was not difficult to stop our work from time to time to watch the sky and the fields and to consider how fortunate we are to live in a beautiful and safe place, where tolerance and inquiry and open-mindedness are the most celebrated virtues of our community.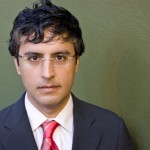 Last week, Reza Aslan, author of Beyond Fundamentalism, was on campus to talk about the state of Muslims in America, and he reminded us how important it is to distinguish the trees from the forest, to remember that the behavior of a few individuals does not ever stand as representative of a culture or religion or country. Historically, the danger of forgetting that truth is the kind of atrocious outcome — racism, genocide — that can make one feel ashamed to be a human being.
Masha Hamilton will arrive on campus on Nov. 1 — just a few weeks from now — for nearly ten days of readings, lectures, and meetings with various groups of students. Her extraordinary work with the Afghan Women's Writing Project, which seeks to connect women in Afghanistan with other writers and readers around the world, and which aims to provide those women with both the means and the courage  to tell their stories, is a wonderful example of how language — and, most particularly — the important act of telling our stories, can help people make the critical distinction between individuals and groups (cultural, religious, civic) to which they belong. In that way, the organization takes a profound stand on the side of optimism. One voice, one story told by one individual to another, passed from writer to reader, can change the world.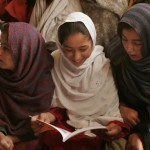 Yet her novel, 31 Hours, which examines the life of a young American man who falls under the sway of radical Muslim terrorists, provides yet another view of the dangerous breeding ground out of which hate and terrorism and conflict arise. It's worth looking closely at the way Hamilton depicts Jonas's life to see how she understands the easy tipping point between adolescent bewilderment and existential dread, the fine line between feeling unconnected to place and country, and feeling that one's place and country have become unrecognizable, even hostile…enemy territory, after all.
This past Saturday, police in New York arrested 700 demonstrators from the Occupy Wall Street protest as they tried to cross the Brooklyn Bridge in New York. There are ways, surely, in which the kind of public demonstrations of anger happening here in the U.S. are related to the expressions of anger taking place elsewhere in the world, either on the dramatic scale of the uprisings in the Arab countries, or even at the small, intimate level of families. Whenever people are disenfranchised, whenever they are threatened, whenever their freedoms of speech or religion are curtailed, whenever their basic needs for food and shelter and health go unmet, surely trouble will follow.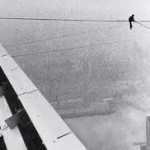 Readers of the SBC Summer Book Club blog might be interested to know that other reading groups have been talking about Colum McCann's novel Let the Great World Spin, which was on our reading list last summer. Let The Great World Spin was the first book for Ginia Bellafante's Big City Book Club, a New York Times online book discussion forum. Here's a link to readers' discussion of the novel, including a video of an interview with McCann.
In her introduction to the discussion, Bellafante writes: "…I am compelled by the book's sense of optimism. It ends with a child of terribly grim circumstance, having landed into a good home and the Ivy League. Mr. McCann means this to stand as a testament to the city's resilience. But at the same time it seems to undermine his own message by the inadvertent suggestion that poverty is surmountable only by serendipity and the charitable impulses of private citizens. New York in the years since 9/11 has become a place where class divisions seem ever more pronounced, where an outcome like the one Jaslyn experiences in the book feels less possible rather than more."
Bellafante's question hangs in the air: in the ten years since 9/11, has the world become a better, safer place, or has it become a place where less is possible for so many more people?
I think about Philippe Petit, his precarious journey between the Twin Towers in New York, and the way in which McCann understood the metaphor of that undertaking — its brilliance, its beauty, its hazard…how so much always hangs in the balance in any given life.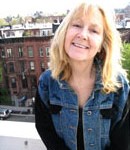 I think about Masha Hamilton, and her enormous, selfless work on behalf of women in Afghanistan. I think about the heartbreaking story of Jonas in 31 Hours, about how one young man, someone's beloved son, is sheared off from friends and family and country. At one point in the novel, Carol, his mother, contemplates, "He taught her humility, the way a child does, and how to love godlike, selflessly. Still, there was more to learn. She wasn't finished yet."
How difficult it is to love, really. We think of it is as easy business — troublesomely easy, in fact, how quickly we tumble into love. But isn't it actually a profoundly difficult undertaking to truly love – to love thy neighbor, or even oneself? In a way, all the conversations taking place on campus this year about tolerance return us as much to the to the subject of love as to the subject of hate.
Meanwhile, have a look at this video of Masha's speech in 2010 at the Hoover Library in Alabama as part of the its Southern Voices series. I hope if you can get here in November for any of Masha's events, that you will do so. We'd welcome you back on campus, as always. Her events are listed below.
I began this post by noting that summer has officially ended, and so, too, has this year's Sweet Briar Summer Book Club. (Though you are always welcome to continue to chime in about the novels, of course.) I'll be back next summer with three new novels for us to read together, and I'll look forward to those future discussions.
MASHA HAMILTON'S EVENTS AT SWEET BRIAR, FALL 2011
Wednesday, Nov. 2 at 8 p.m. Lecture and presentation by journalist, novelist, and humanitarian activist Masha Hamilton. Hamilton, 2010 winner of the Women's National Book Association Award, will talk about her work as a journalist in Africa and the Middle East, her career as a novelist — in which she draws heavily on her experience as a reporter — and about the two nonprofit organizations she founded, the Camel Book Drive, and the Afghan Women's Writing Project. Her most recent novel, 31 Hours, was chosen as one of the best books of the year by The Washington Post in 2009. Wailes Lounge at the Wailes Conference Center. Free and open to the public. 
Friday, Nov. 4 at 8 p.m. "Out of Silence," a staged dramatic reading of work from the Afghan Women's Writing Project founded by Masha Hamilton, performed by Sweet Briar student actors. Murchison Lane Auditorium, Babcock Fine Arts Center. Free and open to the public. 
Monday, Nov. 7 at 4:30 p.m.  Masha Hamilton will read from her most recent novel, 31 Hours, selected by The Washington Post as one of the best books of 2009. Pannell Art Gallery. Free and open to the public. 
NOTE: To raise funds for the Afghan Women's Writing Project, original, limited-edition, hand-crafted broadsides of a number of works from the AWWP website – poems and excerpts of essays — have been produced by Sweet Briar students Kaitlyn Holloway ('13) and Sally Toms ('13). These prints, hand-embellished and decorated, will be for sale at the Wednesday, Nov. 2 lecture and at the "Out of Silence" performance on Friday Nov. 4. Three one-of-kind prints will be sold at silent auction to the highest bidder following the performance Friday night.