Small island, small world… lonely place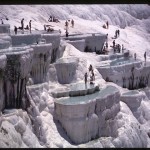 I loved Small Island when I read it the first time in 2004, the year it was published. I loved it again rereading it this summer, when even its happy ending — orchestrated beautifully by Levy to be both a gain and a loss — does not dim the power of the tremendously painful record of the lives of these characters.
The novel contains many scenes of punishing cruelty, the sort of cruelty that arises specifically out of racism's fear and ignorance and intolerance. The scene when Hortense mistakenly exits into the broom closet at the school in Islington after her humiliating interview is excruciating to read, as is Gilbert's suffering on her behalf. " 'Go on, shoo,' " he says angrily to the nosy onlookers watching Hortense weep on her bench in the public square. "No one will watch us weep in this country," he thinks.
Levy reminds us at the close of the novel of Winston Churchill's famous words about the Royal Air Force during the German bombing raids against London: "Never in the field of human conflict has so much been owed by so many to so few." Small Island is a kind of litany of the damages of xenophobia and racist and classist hatred, a catalogue of the damage human beings wreak against each other: the long trail of global anti-Semiticism, Muslim versus Hindu, white versus black, rich versus poor…how endless it is, really.
The causes of such conflict are complicated, of course, yet the hollow core at the center of human hatred seems simple enough." 'You know what your trouble is, man?' "Gilbert says to Bernard in the novel's penultimate scene. " 'Your white skin. You think it makes you better than me. You think it give you the right to lord it over a black man. But you know what it makes you? You wan' know what your while skin make you, man? It make you white. That is all, man. White. No better, no worse than me — just white.' "
When I watch the news at night, I am aware of the terrible trouble that besets the world — starvation in Somalia, war throughout the Middle East, rioting in India and even London and … on and on. At one point in the novel, Bernard observes, " The recipe for a quiet life is each to their own. The war was fought so people might live amongst their own kind. Quite simple. everyone had a place." And yet, of course, the "quiet life" Bernard imagines is a figment; it is not quiet so much as it is muffled, like a gagged hostage.
One of the salvations of literature is that it rescues suffering from facelessness: through Small Island we come to know Hortense and Gilbert; we know Queenie and Bernard… and by that knowledge, perhaps, are inoculated against repeating the mistakes of the past.
I'm a bit late posting my thoughts about Small Island; a few other books intervened between Bel Canto and my rereading of Small Island, and I wanted to mention them here: Binocular Vision, the collected stories of Edith Pearlman; Pulse, the newest story collection from Julian Barnes; and Burning Bright, the 2010 story collection by Ron Rash.
Ann Patchett (of Bel Canto) wrote the introduction to Binocular Vision, in which she said that it should be "the book with which Edith Pearlman casts off her secret-handshake status and takes up her rightful position as a national treasure. Put her stories beside those of John Updike and Alice Munro. That's where they belong."
Despite having published over 250 stories throughout her career — and having won many prizes for her work, including the 2011 Pen Malamud for Binocular Vision — Pearlman has a quieter following than she deserves, even among literate people. I'm giving copies of this book to everyone. Go buy one.
And if you haven't read  the work of Ron Rash, Burning Bright is a wonderful place to begin. These are extraordinary stories, savagely compassionate, with the sort of deadly impact of a stealth bomb. They make you put your hand to your heart. Go buy one of his books, too.
Julian Barnes has a distinguished career — Pulse is his 17th book — but his work is new to me; I'll be teaching one of the stories from Pulse, "Harmony"  — based on the 18th century Viennese physician Franz Mesmer's hypnosis treatment of pianist Maria Theresia Paradis in 19th-century Zurich  — in my Research & the Fiction Writer course at Sweet Briar this fall.
Students are due back at Sweet Briar is just a few days. I hope you will continue to post your thoughts about Bel Canto and Small Island and about Masha Hamilton's novel 31 Hours in the weeks ahead. Masha will be on campus this fall; we're tremendously excited about her visit, as she will be among us for several days, sharing both her own work and the work of the women involved in the Afghan Women's Writing Project, which Masha founded.
Meanwhile, the sky is blue here today at Sweet Briar. The deer had a fine meal in my garden while I was away this summer, drat them. I've posted the dogs on guard duty, but they whine at the back door and annoy me, and, in the end, what are a few hydrangeas and roses compared to the pleasure of those lovely creatures with the dappled light on their backs?
We're looking forward to having the students back among us. Please keep reading and writing. Thanks to all for your participation this summer.