A greater tragedy
Warning: as we're quickly approaching the end of the month I felt it would be all right to begin discussing the end of the novel.  If you haven't finished reading yet, you might wish to read the post at a later date as it does contain spoilers!
When I first began reading Bel Canto, I focused on the micro-level of the story—Carmen's romance with Gen, Roxanne's enthralling voice, General Benjamin's raging shingles, Messner's comical resignation to his fate as tourist-turned-negotiator.  It is easy to fall in love with the characters' stories and interactions and to thus focus on the tragic ending on a purely personal level. We as readers lose people we have come to know and love as individuals, and might forget that their deaths are symptomatic of a much larger tragedy—the unending disparity between the poor and the wealthy, the enslaved and the free. The death of the terrorists, as was hinted throughout the book, was inevitable. This is "the way these things always end," referring to terrorist-hostage situations, but also to the general structure of the world.
The inescapable truth revealed in Bel Canto is that of so many people throughout the world's history: good people who work hard and desire the ability to create a good life for themselves are denied that ability by the very people they aspire to emulate. The terrorists (and should we truly call them such?) resort to a desperate, doomed attempt to ameliorate life in the small South American country, seeing no other option left open to them. They are mostly kind people, albeit a bit grumpy at times. They take care of their hostages, come to be friends with them, and are moved by the power of music, love, and the soap opera star Maria as easily as the original dinner guests are.
And yet, they are poor. They come from the jungle, and most have little education. Because of their backgrounds they fear for their lives, for the chance to speak their minds freely, for their friends and family who have been incarcerated for "crimes" that in the U.S. might land someone their own successful opinion blog.
The beauty of Bel Canto is that we have the chance to see, for a moment, how truly similar we as human beings are. The tragedy, however, is not only that Gen loses Carmen, or that Roxanne loses Mr. Hosokawa. It isn't that many of the terrorists were young and never had the chance to live full lives. The tragedy lies in humanity's perpetual inability to move beyond the distinctions of poverty, politics, and power.  And while I have the optimistic view that we creep ever closer equality for all people, it is sobering (and necessary) to remember that we aren't there yet.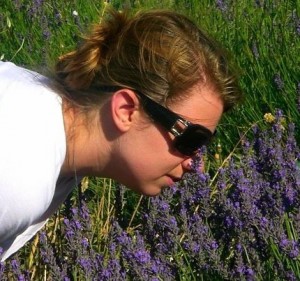 My name is Maggie Saylor Patrick and I am a 2007 grad who majored in International Affairs and French. I currently live in Ohio with my husband and cat, and I work at Miami University as a writer for the development office–a position I surely would not have obtained were it not for the wonderful tutelage of Carrie Brown.  I will be pursuing my M.A. in Political Science part-time beginning this fall and am looking forward to coming back to Sweet Briar next May for our fifth reunion!