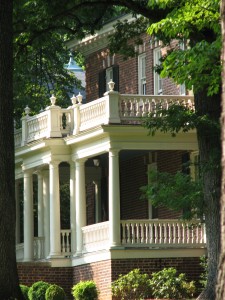 I'm delighted to welcome you to Sweet Briar College's Summer Book Club, where students, alums, and friends of the College gather to talk about books. We'll begin the summer in June with Bel Canto by Ann Patchett. In July we'll move on to Small Island by Andrea Levy. We'll conclude in August with 31 Hours by Masha Hamilton (who will visit campus for several days in November; more on that exciting visit in later posts).
I've invited several readers to post comments to the blog as the summer progresses, and you are welcome to comment on those posts. No two people ever receive a book in quite the same way, and I look forward to hearing your thoughts.
The three novels chosen for this summer's reading all speak to the complex ways in which — regardless of our differences or similarities — we both recognize and fail to recognize our common humanity. Issues of racial, ethnic, political, and religious intolerance will be considered in a deliberate way on campus this fall, both in the College's Honors program, where the theme of the seminars is "Testing Tolerance," and in SBC y:1, the College's first-year common reading experience. This year marks the end of a decade following the events of 9/11. In observance of that anniversary, the y:1 program will be built around the book Beyond Fundamentalism: Confronting Religious Extremism in the Age of Globalization by Reza Aslan, as well as several complementary texts. Using the perspectives of literature, science, philosophy, and history, students in the y:1 program will consider how the world has changed since 9/11 and what those changes mean for our experience today in a global community. I know the three novels we'll read this summer will enlarge and enrich our understanding of our common humanity.
I've included information on the novels in the links below. Please see the individual categories for descriptions of the books, for reviews, interviews with the writers, and ordering information. This post will stay in place on the blog, but you'll be able to follow the discussion in the scrolling column of posts to the right.